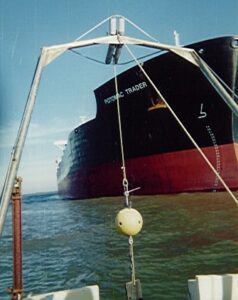 Sea Surveyor owns and operates numerous types of sophisticated oceanographic sensors that monitor tides, waves current speed and direction, and diffusion/dispersion. 
Typical applications include:
CURRENT MONITORING:
• InterOcean S-4 meters are used to measure current velocity and direction.
• Seafloor-mounted ADCP meters measure current speed/direction for entire water column.
• Computerized processing and plotting of current speed and direction statistics.
WAVE AND TIDE MONITORING:
• Continuous deployments from 1-day to 1-year.
• Subsurface pressure-sensors measure water surface elevation to mm accuracy.
• Wave height, wave length, wave period, and wave direction (optional)