Sea Surveyor has surveyed over 50 lakes and reservoirs in 5 Western States since 1985, ranging in elevation from sea level to over 7,000'. Our tow vehicles have trailered our survey boats over 9,000' mountain passes, and launched the boats in lakes without boat ramps. Our vessel's have enclosed, heated cabins that allow surveys to continue in winter during rain/snow conditions.
Our 26' survey vessel has a radiator-cooled engine, which guarantees no release of oil or gasoline into the lake. We also use electric-powered motors to propel our smaller survey boats in pristine, drinking-water reservoirs.
Our hydrographic surveys are typically used to compute new lake capacity tables. We also conduct Subbottom Profiling surveys to measure the thickness of soft sediment layers.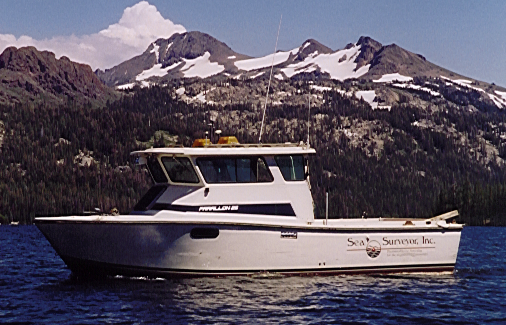 Partial List of Lakes Surveyed by SEA SURVEYOR
2006 Lake Isabella Corps of Engineers, Sacramento $ 49K
2005 Lexington Reservoir, Santa Clara Valley Water Dist. $ 35K
Uvas Reservoir, and
Chesbro Reservoir
2003 Lake Almanor Pacific Gas & Electric Co. $90K
2001 Hetch Hetchy Reservoir San Francisco Water District $16K
2000 Folsom Reservoir Bureau of Reclamation $13K
2000 Calaveras Reservoir, San Francisco Water District $22K
Lake San Antonio,
Lake San Andreas,
Upper & Lower Crystal
Springs Reservoir, and
Pilarcitos Reservoir
1999 Caples Lake, Silver El Dorado Irrigation District $27K
Lake, and Echo Lake
1992 Slab Creek Reservoir Sacramento Muni Utility District $17K
1992 Clifton Court Forebay Calif. Depart. of Water Resources $20K
1990 Lake Naciemiento Monterey County Flood Control $ 9K
1990 Lake Morgan, Arizona Arizona Public Service Co. $21K
1989 Bridgeport Reservoir Walker River Irrigation District $ 9K
1988 Lake Cachuma Bureau of Land Management $10K