Client: City of San Francisco, Public Utilities Commission
Completion Date: 2001
Contract Value: $16K
During September 2001, Sea Surveyor conducted the first hydrographic survey of historic Hetch Hetchy Reservoir in Yosemite National Park.  Soundings from the Class 1 hydrographic survey were used to compute a new lake capacity table and map the underwater topography. Prior to the hydrographic survey, the Reservoir had not been mapped since the valley was flooded in the early 1920's.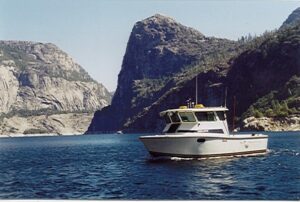 Sea Surveyor's Class 1 survey boat is one of few vessels ever allowed into the pristine waters of Hetch Hetchy Reservoir.  Prior to launching, the boat and trailer were steam-cleaned and carefully inspected by SF-PUC personnel.  The survey boat's radiator-cooled, inboard engine did not release petroleum products into the lake, and a modern sanitation system contained all wastes.  There is no boat ramp at Hetch Hetchy, so the survey boat was launched from an old, narrow construction road that descends the steep granite walls of the reservoir.
The survey of Hetch Hetchy Reservoir was underway when Yosemite National Park was ordered closed after the 9-11 terrorist attacks. The survey crew elected to remain at Hetch Hetchy to complete the 2-day survey, returning home a week later after the Park re-opened.
Other SF-PUC Lakes Surveyed by SSI
LAKES YEAR(S)
Calaveras Reservoir 1994 & 2000
Lake San Antonio 1994 & 2000
Upper Crystal Springs 1994 & 2000
Lower Crystal Springs 1994 & 2000
Pilarcitos Reservoir 1994 & 2000
Lake Merced 1988
Depthfinder: INNERSPACE Model 448 with 3-degree, 200kHz transducer.
Navigation: Differential GPS
Line Spacing: 250' (25' near Dam)